Brawn B-2020 Burglary Rated Safe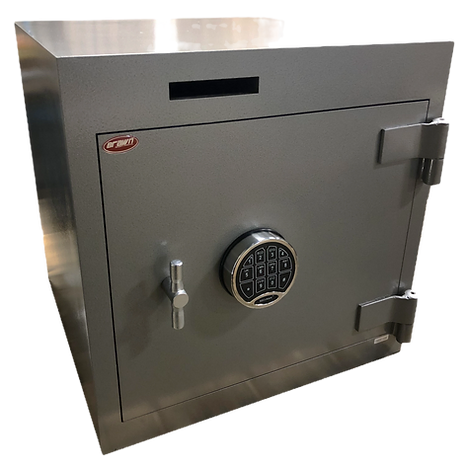 Brawn B-2020 Burglary Rated Safe
1/2″ thick A36 solid steel plate, recessed 1/2″ to increase resistance to pry attack

Formed "B" rate steel plate body.

Bolt down holes.

High quality 3 wheel combination lock or optional electronic lock
Outside:
H 20.5", W 20.5", D 20" (add 1-½" for handle to depth)

Inside: 
H 20", W 19.8", D 17"
Weight: 194 Lbs.
Shelf:    1
Available with the secuRAM ProLogic L02 Safe Lock

The ProLogic L02 is a very reliable and robust safe lock system ideal for most applications. The ProLogic L02 features SECURAM's rugged stainless steel construction and an OLED Screen for easy viewing and user feedback.
Simple to Use and Reliable
• Enter your 6 digit code and turn the safe handle. That's it.
• OLED Menu system guides the user through access and programming procedures
• Time Delay usage prompts make TD access easy.
• Unprecedented commitment to quality and reliability.
Features
• 30 Codes: 2 Manager Codes and 28 User Codes
• Super Code for programming management and control
• 5,000+ openings on a 9 Volt battery
• Single or Dual Control mode
• SureLock Battery Management and AC power optional
• Time Delay functionality 1-99min; programmable Opening Window 1-15min
• Time Delay Override
• Recovery Code to set the lock back to factory default
• Enable and Disable User codes
• Control up to 4 locks, assign user access to each lock
• SureLock Battery Management and AC power optional
• Standard footprint and mounting pattern, easy retrofit for any mechanical or electronic safe lock
• Finishes available: Chrome
• Can be paired with any other SECURAM motorized safe lock bodies.
Specifications
Dial or Digital Keypad

S&G Combination Lock

or

SecuRam Digital Lock

or

Securam Time Delay ProLogic L02 Safe Lock