Brawn BIF-400C 4-Drawer Filing Cabinet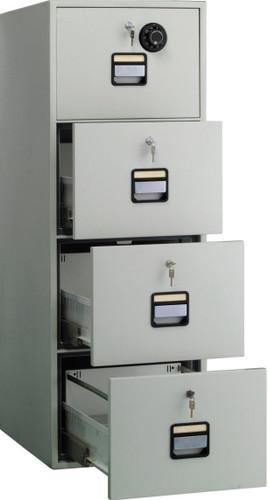 Brawn BIF-400C 4-Drawer Filing Cabinet
BIF-400C
Outside: H 58.25", W 21.25", D 26.8"
Drawer inside : H 9.5", W 15", D 20.5"
Drawer outside: H 13.5", W 18.75", D 24.5"
Weight: 700 Lbs.
Drawer:  4
Heavy duty drawer suspension slides work smoothly and capable of up to 50 kg.
One changeable dial or electronic locks all drawers, separate key lock on each drawer.
The safe has passed 2-hour heating endurance test, drop test and reheating test under the fire proof inspection provisions.
1.6mm steel plate thickness coated with anti rust primer.